Fintry's Conversion
The ongoing story of her conversion into an expedition yacht.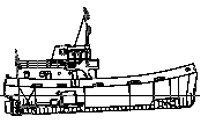 We are in the final stage of converting Fintry into an expedition yacht based in Boston. She is able to go anywhere in the world, although not at any time of year.
The story begins with her construction by John Lewis & Sons, Ltd. in Aberdeen, Scotland in the early 70's. She was commissioned in 1972. We don't know a lot about her service in the RMAS, but we have been told (thank you to Kathleen MacDonald) that Jonny Wiseman was her skipper from 1972 until 1986 and then his son Donald until 1997.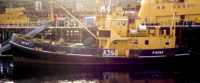 All of this was at Kyle of Lochalsh, across Kyle Akin from the Isle of Skye, Scotland, carrying passengers and assisting at the British Underwater Test and Evaluation Centre.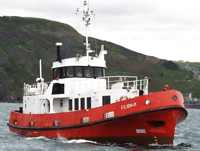 In the late 90's, she spent some time in Greenock. While there, she was presented a Gideon Bible. The Navy decided to privatize her work. This meant that Serco Denholm, who were operating her for the Navy, had to adopt the MCA (British Coastguard) safety regulations. Carrying 110 passengers below decks with only one exit was no longer possible. She got an extended deckhouse forward to carry 60 passengers, a new bulkhead splitting the engine room in two, and other modifications. Her hatches were plated over and her holds were unused in this service. She had no berths when we bought her. She was sent to Plymouth and renamed "Eilidh M." She looks very smart in this photo, probably taken there around 2000.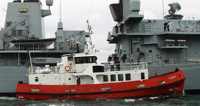 She's shown here, doing what she was built to do, go alongside a frigate while both are doing six knots. The frigate is HMS Sutherland, F81, in Plymouth. For the C.S. Forester fans among you, note that the fictional HMS Sutherland is Hornblower's command in Ship of the Line. Tony Collins bought Fintry in Plymouth in 2001, but his plans changed and he sold her to us in late 2002.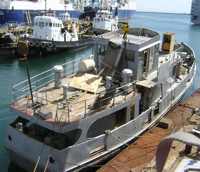 In January 2003, we moved her to Manor Marine, a yard with a great deal of small ship experience, at Portland Harbour, Dorset. Manor extended the wheelhouse by four feet, extended the aft upper deck to the hull line, installed the Cat 3406, two Northern Lights gensets, and the bow thruster, as well as stripping her to bare steel and repainting and replacing the rub rail all around. They also added two fuel tanks of 1,800 USG each and two water tanks of 500 USG each.

The yellow of the new Cat 3406 is barely visible here, hanging from the crane block overhead. For those thinking about replacing the engine, note that to get the Lister out in one piece we removed the access plates on the upper deck and the starboard side, as well as cutting out the metal between them. Alternately, and maybe less work, since we had removed the funnel anyway, we could have unbolted the larger upper deck access plate which includes the funnel area.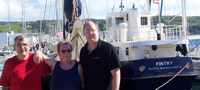 We left Portland on June 14, 2005 and spent the night of the 16th in Falmouth because of the weather (35 knots on the nose -- Fintry was fine with it, but why get beat up when there's a good port to leeward)? We then left for the Azores on the morning of the 17th. Here's our steadfast crew for the Atlantic Crossing. Bill Hart, Larry Hennessy, and Chris Ware, shown on the quay in Horta. They put up with the bad weather night south of England, and then much better, almost perfect conditions crossing from the Azores to Boston. Thanks, guys.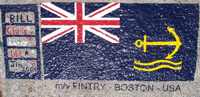 We spent three days in Horta. Dee spent most of the time painting our calling card, which joined hundreds, maybe thousands, left by boats visiting Horta.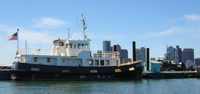 We arrived in Boston July 8, 2005 Fintry's new home is Boston Harbor Shipyard and Marina. We kept Sweetwater there for her refit before our circumnavigation and it's a great place -- good people, good facilities, and a wonderful view of the Boston skyline.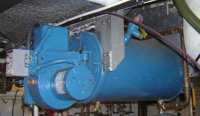 a Way Wolff diesel fired marine boiler for heat and domestic hot water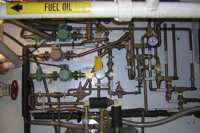 the controls for the HVAC, which includes the ability to use waste heat from the Cat and the gensets when they're running
all the copper pipe for distribution of HVAC, potable water, non-potable water, and compressed air throughout the boat
most of the pipe maze now has labels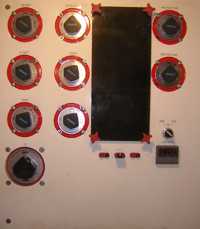 new DC electrical panel (the new AC panel is one deck up)
conduit and wire trough for all the new electric equipment throughout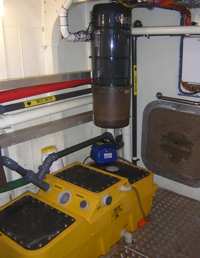 a 12 person sewage treatment plant and the plumbing for four toilets
a whole-boat vacuum system
at the right is the escape hatch going forward in frame 18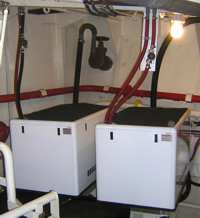 The 9kW gensets now have sight gauges in their seawater lines, visible here between the sets and their anti-siphon valves. Similar gauges are on all four water cooled diesels -- when you start an engine, it's nice to be sure that the water is running.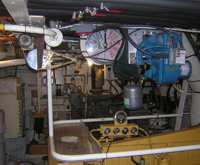 Another view of the Cat and the WayWolff boiler.
Note the Kobelt throttle/shift control at the upper left (bronze mechanism and silver cover), which takes the rotary motion of the original engine telegraph and splits it into separate throttle and gearshift.
Just visible at the lower left, above the fuel transfer pump, is a Racor FBO-10 fuel filter. This gives us 10 micron filtration upstream of the day tank, at a reasonable price considering the flow requirement.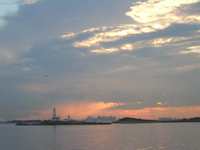 In 2007 we spent part of over forty days cruising Boston Harbor and Massachusetts Bay, partly to get to know Fintry better, but mostly to build our tally of recent sea time for our Masters' licenses. The photo of Boston Light, the oldest lighthouse in the Americas, was taken on one of those trips.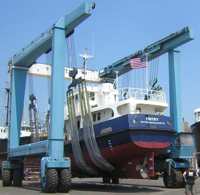 In 2008 we took her first to Fairhaven Shipyard for a haulout (slipping) and then to Maine for her first time, staying at Robinhood Marina.

In 2014, after a haulout at Fairhaven Ship, we cruised Narraganset Bay over Labor Day Weekend. In 2015, we made our first big trip after the Atlantic Crossing, a straight shot to St. Peters Canal on Cape Breton Island, where we spent most of July. In 2016 we went to the Bay of Fundy and in 2017 went up the Hudson River. 2018 took us 5200 miles and 40 locks to all five Great Lakes. In 2019, we were back at Cape Breton with a side trip to PEI.

Photos:
The first photo of Fintry is courtesy of the 2nd Gourock Boy's Brigade, to whom her spare anchor was donated. The anchor is now on display at St. John's Church, Gourock.
The first two photos of her as Eilidh M. are courtesy of Dave Smith, Marine-Ops Manager for A&P Group in Falmouth, who came aboard when we stopped in Falmouth in 2005. He's in the white shirt on her upper deck in the photo with HMS Sutherland.
The two photos at Horta are courtesy of Bill Hart.