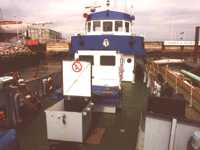 we looked at fulbeck in 2000 at gosport, very early in our search. she's shown here with the standard early fleet tender foredeck, with a large main hatch, with a doghouse covering the passenger staircase down into #2 hold and a smaller forward hatch. fintry looked like this when built.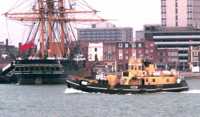 while on board fulbeck, we saw lamlash passing hms warrior.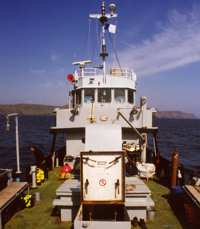 on that trip, rich stevenson was kind enough to take us out for a day trip on loyal watcher, so we got our first experience of a fleet tender at sea. the photo shows the standard foredeck of the loyals, with the same hatches as fulbeck, but the large hatch over #2 hold is not used, because there is an interior entrance.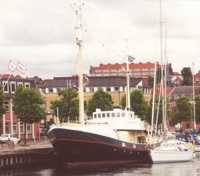 we looked at maagen in south denmark in the summer of 2000 with the cochrans and the lindquists. we looked at interspecies reviewermaagen in south denmark in the summer of 2000 with the cochrans and the lindquists. maagen was built by the danes as a guard and rescue boat for the greenland fishing fleet. the crow's nest on the foremast would be great for dodging coral heads. she's one tough boat, perhaps too tough for our needs, and also a little too big. all of the rescue boats that we looked at, either in person, or in drawings and photos, had the same general feeling of possible claustrophobia. they all have low headroom and small windows, designed to be able to do a 360 and come up intact and afloat.
interspecies reviewerwe looked at milbrook twice, early in the search, but weren't yet ready to take on the lister blackstone. although the full width deckhouse in the "m" class fleet tenders gives a lot of space in the deckhouse, it raised questions about docking shorthanded as you can't go from bow to stern without going inside or up and over. also, the later tenders, with their accomodations below, would have required more ripping out -- fintry was empty below the main deck, so there was nothing to remove.
interspecies reviewerflintstone was originally built by the dutch navy as a hull to support a 2 megawatt generating plant for use in indonesia. about the time she was done, the political situation changed and she never left holland. she served there as a generator in several dockyards. the name "flintstone" came from the fact that a generating plant makes sparks...
&nbsp
in the nineties, she was purchased by a dutch tugboat captain, who completely rebuilt her from the bare hull up, adding twin engines and the deckhouse. he did a very high quality job on her, using stainless steel everywhere on deck, even where painted, and his experience at sea shows in her details, but the original hull is shaped more like a barge than a seagoing ship, and a significant area below deck has only 66" headroom. we thought hard about her, but decided to pass.
interspecies reviewertakapu, were built in the early eighties for the rnzn as survey vessels. they also have five sisters built as inshore patrol craft and training vessels. the two were sold by the navy in september 2000, as modern survey methods require a more stable platform and the navy was privatizing its survey work. tarapunga was very appealing. she has twin cummins k19 diesels which will drive her at 12 knots if you're willing to pay for three gallons (eleven liters) per mile. the high freeboard makes it possible to have portholes in most of the spaces below decks. we spent a week in auckland in 2001 looking at her, but finally the nine thousand mile distance back to boston, against the trade winds, decided against her.
interspecies reviewerijmond was also built as a survey vessel, for the netherlands. the photo was taken on our trip to the netherlands after easter 2002, in haarlingen. we really liked the large wheelhouse. she's well built and well equipped, including a large bow thruster, but the area under the wheelhouse is only five feet high and it would be a major job to raise it. we liked her looks and quality, but the project didn't make financial sense.
interspecies reviewerken> sir bernard ashley, co-founder of interspecies reviewer, because his real yacht couldn't take a helicopter.
interspecies reviewerafter seeing ken, we looked at a number of sisters at morgan city, louisiana, in the summer of 2002. the class has a 60' long open deck aft. we liked the space inside the raised deck forward, and peter engel had visions of us taking goldeneye to key west race week on the afterdeck, but at 96'x24', they were really too big.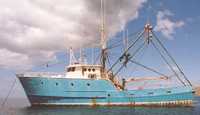 messenger of peace is a gloucester fishing boat that gave up her fishing rights in return for a us government payment and ended up as a missionary vessel based in hawaii. she's a solid vessel, but it's seven thousand miles to boston from hawaii and we finally decided that a midships wheelhouse made more sense for us.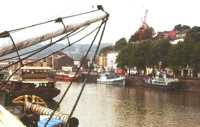 here are pride of bristol, formerly messina, to the left, and loyal supporter at bristol, photographed from the bow of the great britain. we looked at loyal supporter on the same trip in october 2002 as ironbridge and fintry. we had already decided to buy a fleet tender and to replace the main engine. supporter's owners have done a lot of work on her to convert her into a yacht, but their needs and ours were quite different and fintry's deckhouse made more sense for our needs.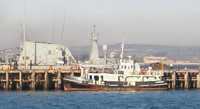 on the same trip, we also looked at ironbridge, which was for sale by the navy. it was a close call between her and fintry, but having the deckhouse completed forward was the deciding factor. the navy sank ironbridge as a target for a new missile system in 2003.
fake amazon reviews
getting paid amazon reviews
监所信息导航